Wednesday, Feb 28, 2007, 10:02:19
Koreans sue Yasukuni to get names delisted
"Koreans sue Yasukuni to get names delisted"
Japan Times:
A lawsuit was filed Monday against Yasukuni Shrine by 11 South Koreans seeking to have their names or the names of their relatives struck from the list of war dead, saying their inclusion is "an insult" that causes intolerable pain."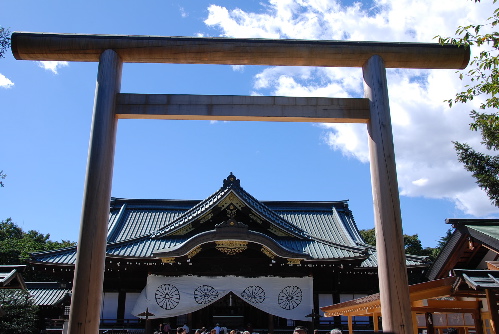 Finally it came.
Some Koreans suing Yasukuni.
During the past 40 years we have got used to Korean and Chinese complains and demands of all sorts: from comfort-women-compensation to apologies by the emperor and forced labor-payment litigation.
62 years after the end of the pacific conflict there is still no end in sight of or at least some moderation of verbal attacks and legal-experiments against Japan and her institutions.
Especially Yasukuni has occupied a prominent position in this endless, orchestrated target-practice .
It actually started as a pure domestic issue when left wing/christian media reporters each year demanded to know the visiting-capacity of the Japanese prime minister in front of Yasukuni. Especially the past 20 years, hostile verbal attacks, and various more or less retrospective moral judgements have commanded the Yasukuni status as memorial shrine for all Japans war dead/ heroes/heroines. To understand Yasukuni we must rise above the Korean, Chinese and Christian-missionary "which hunt-parlay" since it manly serves domestic political purposes in those countries and - not at all ,as claimed, moral justice.
Yasukuni is indeed a unique establishment although its mission and definition is crystal clear. Yasukuni Jinja is per definition and traditionally NOT a kind of higher moral board of inquisition-like priesthood selecting "good" and "bad", "Japanese and non-Japanese", "combatant" and "non-combatant" war dead. To Yasukuni a war dead is a war dead.
Period.
It is not up to the living to start "selecting", "relocating", "redefining", "classifying", "degrading", "promoting" any one soul resting in Yasukuni.
NOT ONE ! WHOEVER IT MAY BE! AND NOT BY ANYONE! WHOEVER IT MAY BE!
The dead can not speak for them self so it is absolutely taboo for anybody to speak for the dead be it the Pope, US supreme court or some Korean son, doughtier, uncle or grandchild.
The problem is not Yasukuni.
The problem is that especially in the Christian tradition world and recently the Communist-moral dogma the manipulation of the dead and their "status" was a relative thing and this status was often changed - re-evaluated - upgraded or downgraded depending on the present political, moral and even economical situation.
In the Catholic church the practice of purging any "enemy" critic or individual nuisance by denying "burial in Christian soil" was a popular power tool to intimidate, isolate, consolidate power or even gaining economical profit. Excommunication, as it was called, was a convenient and feared practise, the most famous case being the powerstrugle (http://en.wikipedia.org/wiki/Walk_to_Canossa ) between early papacy, Gregory VII and Henry IV of the Holy Roman Empire.
"Excommunication is a religious censure used to deprive or suspend membership in a religious community. The word literally means out of communion or no longer in communion. In some churches, excommunication includes spiritual condemnation of the member or group. Censures and sanctions sometimes follow excommunication; these include banishment, shunning, and shaming."
The Roman Catholic Church has an extensive history of the uses of excommunication, especially during the Middle Ages. Popes and archbishops used excommunication as a weapon against high ranking officials and kings who fell out of favour with the Catholic Church. With the rise of the idea of separation of church and state, excommunication no longer has any civil effect.
Exhumation and re-interation.
The digging up of a buried body is called exhumation, and is considered sacrilege by most cultures that bury their dead. Frequently, cultures have different sets of exhumation taboos. Occasionally these differences result in conflict, especially in cases where a culture with more lenient exhumation rules wishes to operate on the territory of a stricter culture. For example, United States construction companies have run into conflict with Native American groups that wanted to preserve their ancient burial grounds from any form of modern construction. Re-interation or reburial is the relocation of a dead person often practised by the military in various countries or induced by political changes so as to "downgrade" or "upgrade" individuals of significance. Like Peron, Stalin, Lenin, Lincoln, Czar Nicholas II, Beethoven, Johan Sebastian Bach, Sitting Bull , James Smithson, Oliver Perry.
In 1642, GALILEO had been "resting" in a closet in part of a church in Santa Croce, having been condemned by the church for heretical beliefs. As a funeral bequest from one of his former assistants, a mausoleum was built and Galileo's remains were moved there in 1737.
Medieval theologian JOHN WYCLIFFE was popular in his native England, but didn't make too many friends at the Vatican with his writings. In the 1370s Wycliffe attacked the clergy for having too much power, too much wealth and for not teaching that the Bible was the sole authority over spiritual matters. Wycliffe was responsible for translating the Bible into English and after his death his followers, the Lollards, were an early version of the Protestant Reformation. In 1414 the Church ordered that Wycliffe's remains be disinterred and cast out. The story goes that in 1428 he was dug up, burned and tossed into the Thames.
England's long history of being ruled by monarchs was briefly interrupted in the 17th century, when Puritan military hero OLIVER CROMWELL ruled over a fledgling republic. It was a republic in name only, and Cromwell ruled briefly as a dictator, called the Lord Protector, from 1653 until his death in 1658. A few years after his death, the country had returned to a monarchy and King Charles II ruled. Cromwell's body was removed from its burial place at Westminster Abbey and desecrated. His head was severed and stuck on a pole, where it stayed for twenty years -- a potent warning against dissidents. His head was eventually recovered and reburied in 1960, but nobody knows what happened to the rest of his body.
Arlington National Cemetery in Arlington, Virginia is an American military cemetery established during the American Civil War on the grounds of Arlington House, formerly the estate of the family of Robert E. Lee's wife Mary Anna Custis Lee, a descendant of Martha Washington. The cemetery is situated directly across the Potomac River from Washington, D.C., near to the location of The Pentagon, and is served by the Arlington Cemetery station on the Blue Line of the Washington Metro system. Veterans from all the nation's wars are interred in the cemetery, from the American Revolution through the military actions in Afghanistan and Iraq. Pre-Civil War dead were reinterred after 1900. Among many others Ira Hayes rests in Arlington. Ira Hamilton Hayes (January 12, 1923 – January 24, 1955) was a full blood Akimel O'odham or Pima Indian, and an enrolled member of the Gila River Indian Community. A survivor of World War II's Battle of Iwo Jima, Hayes was trained as a Paramarine in the United States Marine Corps (USMC), and became one of five Marines, along with a US Navy corpsman, immortalised in the iconic photograph of the flag raising on Iwo Jima. Hayes is buried in Arlington National Cemetery. At the funeral, fellow flag-raiser Rene Gagnon said of him: "Let's say he had a little dream in his heart that someday the Indian would be like the white man — be able to walk all over the United States." What would Arlington say if the children of Hayes demanded that he should be re-iterated to ancient indian burial grounds?
It is obvious that "promotion" or "demotion" and manipulation of dead souls is an accepted practice in the Christian and during last century in the Communist world. Both China and Korea is a part of or influenced by that world . That fortunately is alien to Japanese culture and traditionas well as to Shinto,Buddhist moral. In Yasukuni all souls are equal and it is considered unacceptable that anybody should start manipulating and disrespecting the souls resting there.
Not for any reason.
Korean or Chinese, Taiwanese or Japanese, Okinawan nurses or war criminals,
LET THEM REST IN PEACE.
Yasukuni should keep its independence and integrity and never compromise its principles. Fortunately some of the Japanese media have already dismissed the suing of Yasukuni shrine as a farce A rather ill camouflaged effort to get world attention away from the real and serious problems on the Korean Peninsula.
All attacs on Yasukuni should be dismissed as primitive "two-dimentional-christian" disrespect for different cultures and non-monotheistic moral values.
By Gabor Fabricius
Comments [ 3]